Laps for Charity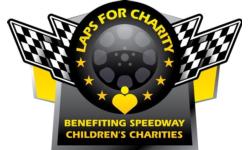 Join us for the ninth annual Laps for Charity benefiting the Las Vegas Chapter of Speedway Children's Charities. NASCAR fans and car enthusiasts will have the opportunity to drive their personal vehicles around the 1.5-mile superspeedway at speeds up to 75 miles per hour (behind a pace car), all in an effort to raise money for local children's charities. Experience the thrill of a lifetime by driving your car, truck, motorcycle or other street-legal vehicle on the same track as your favorite NASCAR drivers!
It's simple to take your Laps for Charity:
Drivers must be 18 years of age and older
All occupants of the car must be at least 6 years of age or older
The vehicle must be street legal
Drivers must have a valid license
You MUST have seatbelts in your vehicle and wear them
Car Clubs
Get your members together and drive together! Make a special reservation for your club to participate between the hours of 8 a.m. and 11 a.m. Only 10-12 vehicles will go on the track at the same time, but invite your entire car club for a drive around the superspeedway!
Victory Lane Photographs
Capture your Laps for Charity moment in Victory Lane for a small donation. Photographers from Cashman Photo will be site to photograph your special moment!
Laps for Charity: Noon to 5 p.m.
THREE laps around the superspeedway for a $35 donation
Rebuy THREE additional laps around the superspeedway for $25
VIP Photo in Victory Lane for $10
This event is a first-come, first-serve event. No reservations will be given, so arrive early to ensure your spot. Laps will take place rain or shine.
Please email panderson@lvms.com or call (702) 632-8242 with questions.